I loved David Cronenberg's History of Violence, which was widely critiqued as a blistering commentary on all the aggression and brutality behind America's "have-a-nice-day-now" civility. So I wondered what I'd make of Eastern Promises, Cronenberg's latest movie, now that he turns his attention to London.
Eastern Promises is set in a place called London Fields, a patch of parkland in the borough of Hackney next to Broadway Market. And Eastern Promises unpacks this for us vividly. As Matthew de Abaitua says in his excellent C4 review: "The new London is captured in all its opulence and decay. Views over London Bridge capture the renovated waterfront. The Russian émigrés are all furs and leather – wealth flaunted without the inhibition of the indigenous bourgeoisie – and there is even a scene set outside a Chelsea game, the football club that became the plaything for oligarchs in exile."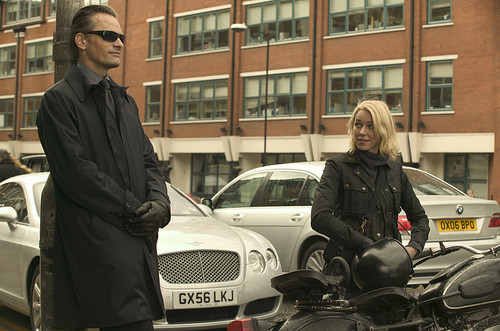 But the London of Eastern Promises always seems to be viewed from a foreigner's perspective. Maybe it's the accents – even Naomi Watts speaks like she was born there(actually, she was). Or maybe that's the point: this part of the city has been alienated, taken over by courtly, charming Russian gentlemen who order indescribable brutalities from our midst. It's familiar but no longer quite the same.
The stand-out scene of course is a fight to the death in a Finsbury steam bath, with Viggo Mortensen's tattooed and inscrutable Nikolai, stark naked against two Chechen mobsters wielding curved blades. Oh yes. Hackney; it's an entirely different moral univese.