LP Hartley's 1953 novel "The Go-between" was set in north Norfolk, in the secluded country homes and villages where I grew up. Yet, the Victorian landscapes of the novel weren't really a place I recognised. Understandably. Hartley famously began the novel: "The past is a foreign country; they do things differently there."
And this is how I've decided I shall approach Django Unchained, Tarantino's latest, quite excellent opus. This will allow me to think my way through the big issues at stake – racism, slavery, guilt, redemption, power and powerlessness, simmering residual anger, sexual violence – as well as the deliberate portrayal of these themes within the framework of a blaxploitation-style Spaghetti Western that's written and directed by a white guy, without getting too stuck on finding a singular interpretation or understanding of it all.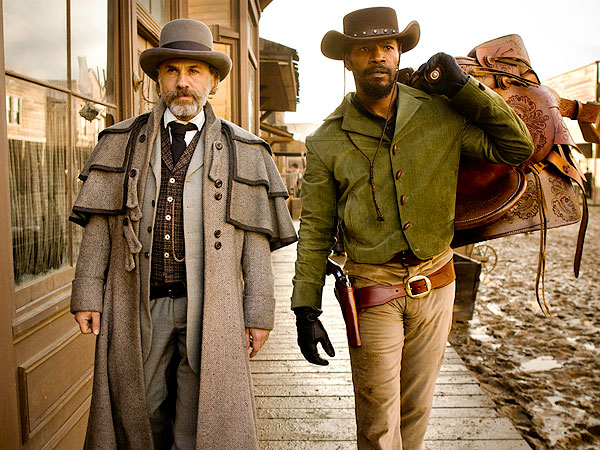 I thought it was brilliantly, beautifully filmed in awesomely art-directed locations, and there wasn't a single performance out of kilter. Samuel L Jackson gives the first performance I've seen him give in a long, long, long time that isn't phoned in – he's electrifying – Leonardo as the bad guy is completely mesmerising, and Waltz and Jamie Foxx deserve whatever accolades come their way. So: it's not easy viewing given the themes and the violence and the language, but the past is, after all, another country, and I'll do the heavy lifting on this later.
Django Unchained filmed the upland winter scenes in Wyoming – on a private ranch location in Jackson, with additional scenes in Grand Teton National Park and on the National Elk Refuge, according to Wyoming Tourism. The plantation scenes were shot in Louisiana on the Evergreen Plantation, a National Historic Landmark from 1832, on Louisiana Highway 18 near Wallace, Louisiana. Due to it's historical significance, the plantation is on the first 26 featured sites on the Louisiana African American Heritage Trail.