I didn't know anything about Moonrise Kingdom before entering the movie house. I'd not seen a trailer nor read a review. Honestly, I'd also not seem much of Wes Anderson's previous work either, except a couple of excerpts from The Darjeeling Limited. So the movie came as a total surprise. It's the quirky tale of a couple of teenage runaways on a a small island off the Atlantic coast of the US, who are being tracked down by their parents, by Social Services, and by a whole troupe of Scouts. It's quirky, colourful, and quite bizarre. I wasn't at all sure where it was going but I was very glad I stuck with it till it got me me there.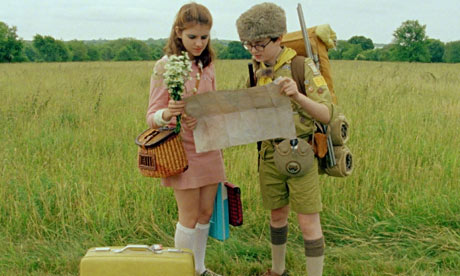 Moonrise Kingdom has the dubious honor of being location scouted, at least in the first instance, via Google Earth. Fast Company has a great article on how the unique look of the show was put together.
"We had to figure out where we were shooting this movie — in Canada or Michigan or New England…? We started out with 'Where is this girl [Suzy's] house, and where is the naked wildlife we want?' So [after Googling], we traveled around a bit, to Cumberland Island in Georgia, to the Thousand Islands on the New York/Ontario border…we checked out all these locations."
Anderson finally settled on various locations around Narragansett Bay in Rhode Island. A house in the Thousand Islands region in New York was used as the model for the interior of Suzy's house on the set built for the movie. Conanicut Island Light, a decommissioned Rhode Island lighthouse, was used for the exterior. Here's the tourism office site, if you're keen to visit.
On a personal note, too, I enjoyed the Benjamin Britten music that peppers the soundtrack….