In Young Adult, Charlize Theron plays Mavis, a self-destructive, alcoholic, emotionally-stunted ghost-writer of teen novels, who travels back to her home town in Minnesota to try to win back her own teenage sweetheart Buddy. The fact that he's happily married with an adored new baby is narry a problem for the manipulative Mavis. Her full throttle descent into humiliation as she tries to woo him is not always easy to watch.
"Young Adult" could have played as a kind of grim Fatal Attraction (25 years old this month!). Instead it's a cringe-making black comedy and the laugh-out-loud moments come when Mavis' own filter is turned to off. ("I like your decor. Is it shabby chic?") Patton Oswald plays her counterfoil, sardonically punching holes in her imagined love affair. He's great too. Without giving too much away, it all finally builds to a crescendo of mortifying embarrassment, following which Mavis finally has to accept growing up.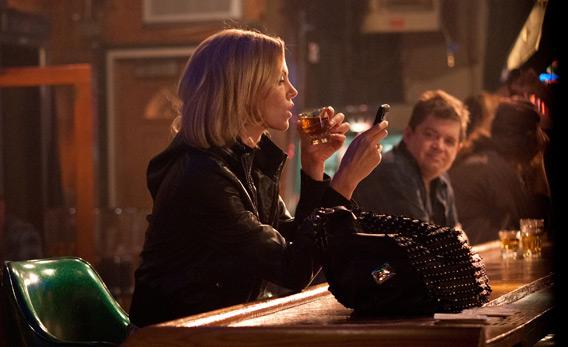 Mavis' home town of Mercury, Minnesota doesn't exist, and although the movie did shoot on location in Minnesota, New York State took advantage of most of the stand-in. Four key scenes were shot at Woody's Village Saloon on Park Boulevard in Massapequa Park on Long Island. Newsday has a sweet tale about the Woody's manager who ended up an extra in some of the scenes.
Written by Diablo Cody and directed by Jason Reitman, Young Adult all hangs together rather well. Charlize is excellent, something of a tour de force – Oscar chatter abounds. However, in my jaded mind, the success of the film rests or fails, ultimately, on if you believe Charlize is actually acting, and isn't herself a mad-crazy psychopath who has to learn to fake her emotions from a board. I'll leave it at that.